PRODUCTION FACILITY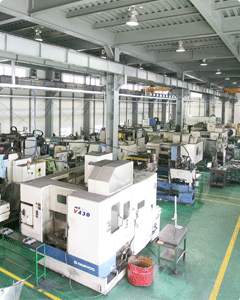 Manufacturing equipment of Woo Shin Industries has been constantly supplemented and improved since its foundation. In order to meet more customers' demands, it has introduced new machinery equipment determinedly and achieved even higher quality level through it. In addtion, the 2nd factory, being operated from Feb, 2005 will be an forefront base of Woo Shin towards world wide caliper brand. Moreover, professionalism of each staff and the pride of being No.1 in the world are significant supports, which enable Woo Shin to be endlessly innovative and growing. Our manufacture line, combined with high-tech machining equipment and teamwork, has the production capability of 960,000pcs a year for steadily dealing with customer's requirements.
Woo Shin is specialized in oil & air pressured parts. Additionally we also develop and supply the forged models for intensive reinforcement of revised calipers, parts for racing and sports car and Aluminum caliper for high speed driving.
So Woo Shin can supply any parts you request no matter what it looks like. We have got accumulated technology and know-how to meet your requirements.

ASSEMBLY FACILITY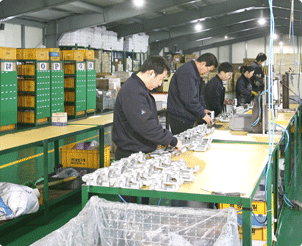 ASSEMBLY FACILIRTY

| Name of Equipment | Specification | Q'TY |
| --- | --- | --- |
| Horizontal Milling M/C | MH-3P etc | 10 |
| 2 Spindle Vertical Milling M/C  | WVHP-1500 etc | 8 |
| Universal Milling M/C  | BM-U6N etc | 4 |
| Pad Gap Milling M/C  | - | 6 |
| CNC Lathe | S390L etc | 14 |
| Vertical Machining Center  | ACE-V430 etc | 10 |
| Horizontal Maching Center  | MCH-4 | 4 |
| Broaching M/C  | - | 2 |
| Others | - | 40 |
The establishment of second assembly factory dramatically rases the capability for assembly prducts.
Daily : 2,500pcs
Monthly : 60,000pcs
Yearly : 720,000pcs
Synthesized management system of warehousing, assembling and inspecting improves the stability of quality and delivery. Especially, thanks to this process, we can offer you higher quality products with more competitive price than ever before.